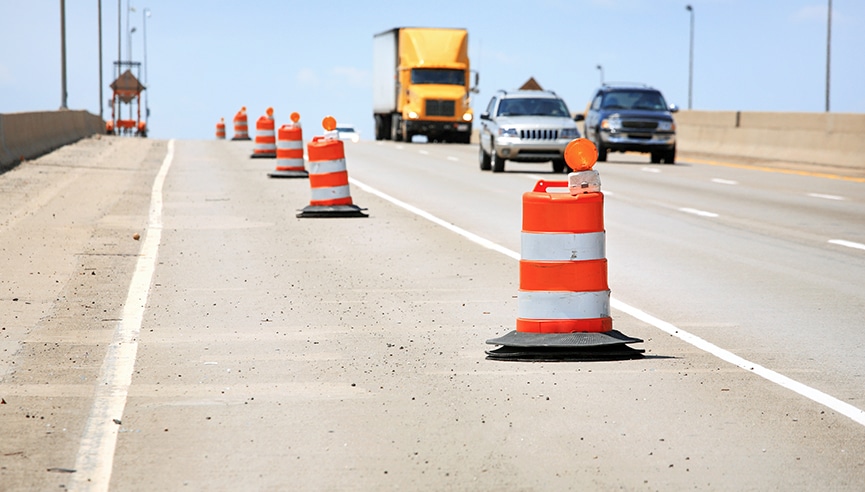 Lebanon Car Accident Lawyers Handling Claims for Construction Zone Injuries
Representing the injured in Mt. Juliet, Cookeville, and throughout Tennessee
Construction zones are necessary if we want to our roads to be maintained and our infrastructure to grow and expand, but we dread the slowdowns in traffic that they cause, and the increased danger of accidents. Highway construction workers are supposed to post signs to reduce speed limits and clearly define the zones of transitions where traffic is being redirected from its normal flow. Some drivers speed, they fail to pay attention to the signs, or they are distracted and do not see the construction zone warning signs – and they suddenly find themselves smashed into the back end of the car in front of them that had slowed down properly.
The National Work Zone Safety Information Clearinghouse reports 671 fatal construction zone crashes in 2018, including 20 fatalities here in Tennessee. At Lowery, Lowery & Cherry, PLLC, our car accident attorneys are here to represent our clients' interests after they have sustained an injury in a construction zone accident in Lebanon or anywhere in Tennessee. We investigate the incident, we determine who is at fault, and we hold them accountable. We offer free consultations and you will not pay attorney fees unless we recover compensation for you.
What are common construction zone motor vehicle crashes?
You may have had the experience of driving along a familiar stretch of highway only to run into a traffic backup because of a construction zone accident. As you drive past the scene of the crash, you notice that one car had crashed into the rear-end of the car in front of it. While rear-end crashes are one of the most common types of construction zone crashes, there are others including:
Sideswipe crashes
Crashing into barriers or signs
Crashing into construction trucks or equipment
Wrong-way crashes on new or unfamiliar exit and entrance ramps
Multi-car pile-ups
Causes of Tennessee construction zone car accidents
As with any other type of car crash, construction zone collisions are largely caused by inattention to the task of driving. One driver is gazing at a cell phone in one hand while steering with the other and looks up too late to avoid a crash. Construction zone crashes can also be caused by inadequate safety markers or warning signage:
Distracted driving. Fiddling with the GPS, reading or sending a text, dialing the phone. These and other tasks distract the driver and can increase crash risk.
Speeding. Driving too fast for conditions makes it impossible to stop in time to avoid a crash when the driver suddenly becomes surprised by a slowdown for a road construction zone.
Drunk or drugged driving, which can cause a crash anywhere, but the drugs or alcohol—or both—slow the driver's reaction time and increase the risk of a crash.
Improperly marked construction zones, with inadequate warnings about shifting or narrowing of lanes.
Finding the cause of a crash and holding the at-fault party responsible for his or her negligence is precisely what our skilled Lebanon car accident attorneys do every day for our clients. We fight to protect your rights and we fight to recover the best compensation for your injuries.
What damages are available after a construction zone car accident?
When you are involved in a construction zone car accident, the fault may not only be with driver who caused the crash. Sometimes the road construction company may be at fault. Maybe a lack of warning signs, narrow, poorly marked transitions, or the ultra-bright lighting which allows road crews to work at night led to a mistake by another driver. There might be any manner of mishap on a construction site which can cause an accident. Therefore, it is important to engage the services of an experienced construction zone car accident attorney from the law firm of Lowery, Lowery & Cherry.
If you are successful in proving liability, the following types of damages may be available depending on your case:
Pain and suffering
Emotional distress
Lost wages
Medical expenses
Punitive damages
Tips to avoid construction zone crashes in Tennessee
The following are a few tips to keep in mind when you are traveling on a route that has road construction projects, or if you should come upon a construction zone unexpectedly:
Use a GPS app which includes information about any construction zone activity on the route you plan to take
Be alert for construction zone signs as you are driving
When you see a construction zone sign, start merging early to allow enough space and time for you to move over to the next lane
Exercise caution when driving in a construction zone
Keep an eye out for workers on foot and for moving construction equipment
Be aware of slow-moving commercial vehicles, which may be unable to see you if you are in their blind spots
How can a Lebanon construction zone car crash lawyer help my case?
Investigating and determining fault in a construction zone car crash can be a bit more complicated than a typical car crash between two passenger vehicles. With a potentially complicated investigation on your hands, you might consider working with the Lebanon car accident attorneys from Lowery, Lowery & Cherry, a law firm with more than 70 years of combined legal experience. We offer personalized attention for our clients, and we fight to recover the most compensation for you when someone else's negligence was the cause of your injuries.
Road construction is a necessary nuisance. All that is required is that all drivers remain alert and aware of what is happening around them, and drive with caution because the road construction workers have families to go home to, and other drivers want a safe roadway on which to travel.
Your experienced Lebanon car accident attorney is ready to represent you and fight for fair compensation for your injuries and losses.
Work with a skilled Lebanon injury attorney to recover compensation
At Lowery, Lowery & Cherry PLLC, we are here to protect your right to recover compensation after someone else's negligence was the direct cause of your injury. Please call 615-444-7222 or complete our contact form to schedule a consultation with an experienced car accident attorney today. Our legal team represents clients in Lebanon, Mt. Juliet, Cookeville, Nashville, and elsewhere in Tennessee.