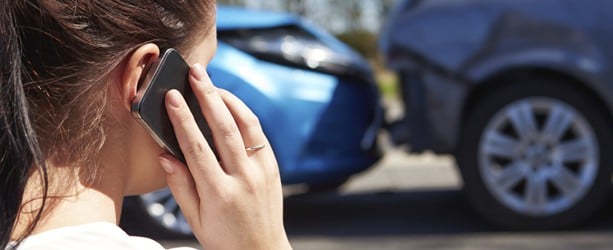 Lebanon Lawyers Provide Assistance with Car, Motorcycle and Truck Accidents in Mount Juliet, Cookeville & Gallatin
Answers to your personal injury questions from experienced attorneys in Lebanon, TN
You have questions about auto accidents. We provide answers.
Car Accidents Frequently Asked Questions
What is my primary responsibility as a driver?
Every driver has a responsibility to be vigilant of other vehicles and pedestrians and potential dangers. Drivers must always use reasonable care to avoid an accident. In fact, Tennessee Code Annotated Section 55-8-136 states that a driver's job is "devoting full time and attention to operating a vehicle." Hence, all drivers must drive at a safe speed and keep proper control over the vehicle.
Most importantly, drivers must never send or read text messages and emails while driving because it is dangerous and illegal.
What is the first thing I should do after a car accident?
Keep calm.
What information must I obtain after being in a Tennessee car accident?
Once involved in an accident, you should gather the following information:
The name, address, telephone number and driver's license number of all parties involved in the accident.
The name, policy number and contact information for the insurance companies of all parties involved in the accident.
The license plate number and make and model of all vehicles involved.
Photographs and video clips of the scene. Capture the scene from different angles and points of view. Also include close-up shots of all property damage and physical injuries such as bruises.
The names and badge numbers of all police officers present.
The names and contact information of any eye-witnesses.
It is also a good idea to get a journal and record how and when the accident occurred since your memory of what happened may fade as time passes.
How is fault determined in an auto accident?
Insurance companies often defend their insureds by claiming that the injured plaintiff was actually to blame for causing the accident or at least contributed to it in some way. Under Tennessee law, if it is determined that an injury victim was more than 49% at fault, then the injury victim cannot recover any money from the other party.
How much liability insurance coverage should I have?
At a minimum, under Tennessee law, all drivers are required to have coverage of at least $25,000 per person and $50,000 per accident. For example, if an at-fault driver has minimum coverage, and two people are injured in a wreck, then the insurance company will generally pay no more than $25,000 to each person; if three people are injured, then the insurer will pay up to $50,000 to all three people combined, with each person recovering no more than $25,000 individually. Consult your insurance agent for additional information.
What is subrogation?
Your auto and health insurance companies will most likely pay your bills related to the wreck. If you recover a money judgment from the at-fault driver, then you will most likely be required to pay your insurer back for any payments it made on your behalf, pursuant to your insurance contract. This "pay-back" is called subrogation.
What happens if the at-fault driver is uninsured, has inadequate coverage or flees the scene of the accident?
If your insurance policy includes coverage for uninsured motorists or hit-and-run incidents, then you may be able to collect from your own insurance provider. Otherwise, you may potentially sue the other driver in an effort to collect compensation.
If I rear-end someone, am I automatically at fault?
Not necessarily. For example, if a chain reaction occurred where someone rear-ends you, thereby causing you to rear-end the car in front of you, then it might not be your fault. It is best to consult an attorney to discuss the facts of the incident.
What should I NOT do after an auto accident?
Things you should keep in mind:
Never flee from an accident scene. A hit-and-run carries harsher consequences.
Never say "I'm sorry." Do not admit fault for the accident to anyone.
Never say "I'm not hurt." You do not truly know the extent of your injuries until you seek professional medical help.
Never give any statement to an insurance company without first seeking legal counsel. As an insured, you generally have a responsibility to provide your insurance company with a statement. You could actually be in violation of the terms of your own insurance company if you do not cooperate with them. However, consult an attorney before doing so.
Do not sign anything that says "release," or "in full satisfaction of all claims" without first seeking legal counsel.
When should I file a claim?
Generally, you have one year from the date of the accident to file a lawsuit. Yet it is not a good idea to wait until the deadline. Consult an attorney as soon as possible.
What are damages? How much can I collect?
"Damages" is a legal term that refers to the compensation awarded for losses that result from an accident. Damages can be classified as economic or non-economic: Economic damages include medical expenses, lost wages and property damage; non-economic damages include pain and suffering. The amount of damages you are entitled to will depend on the facts and circumstances of the accident, the degree of negligence involved, and the extent of your injuries.
Can my case be resolved without going to court? Should I settle?
Possibly. In reality, very few cases go all the way through trial. Most cases settle through negotiation, mediation or arbitration. Such alternative dispute resolution methods are preferable because they save time and money. Nonetheless, it is important that you do not accept a settlement for your case until all medical treatments are finalized. Also keep in mind the statute of limitations for your lawsuit. It is best to seek the advice of an auto accident attorney at Lowery, Lowery & Cherry, PLLC because we have negotiated and settled hundreds of cases, and we can help get you the highest amount of compensation you deserve.
Should I see a physician after my collision?
Yes. Even if you believe your injuries are minor, it is a good idea to seek professional medical attention after an accident because symptoms of a serious injury may not always be immediately apparent.
When should I contact a Tennessee auto accident attorney?
The sooner, the better. Having immediate assistance from an experienced attorney can make a positive impact on the outcome of your case. Valuable facts will be fresh in your mind and evidence will be easier to access. Allow our legal team at Lowery, Lowery & Cherry, PLLC to protect your rights and to handle the hassle of dealing with insurance companies.
Truck and Bus Accidents Frequently Asked Questions
What are the responsibilities of truck drivers and bus drivers?
Truck drivers and bus drivers must not only follow the same standards as all other drivers, but some must also adhere to special safety laws specifically designed for those with a commercial license.
Who is at fault?
It depends. Fault can be a complex issue because a multitude of factors and variables are involved, including the time of day and weather conditions, the driver's conditions including fatigue, drug or alcohol use, the truck manufacturer and the truck's tire and brake manufacturer.
Can I sue a trucking or bus company for what their employees did?
Yes. In general, bus and trucking companies are responsible for the actions of their employees, including drivers and mechanics. The company will typically be responsible if a truck driver carelessly or negligently causes an accident.
What damages are available in a trucking accident claim?
You can recover monetary damages for past and future medical bills, past and future physical pain and suffering, past and future mental or emotional pain and suffering, loss of earning capacity, lost capacity for the enjoyment of life and more.
How much time do I have to file a claim?
In Tennessee, you generally have one year to bring a lawsuit. However, it would be a mistake to postpone your case because valuable evidence can disappear quickly. Contact a lawyer as soon as possible so that he or she can assist, start collecting evidence and develop your case.
What should I do if I have a case against a truck or bus company?
You should contact a Tennessee truck accident lawyer at Lowery, Lowery & Cherry, PLLC.
Motorcycle Accidents Frequently Asked Questions
What are a motorcyclist's responsibilities?
Motorcyclists must follow the same standards as all other drivers on the road. Additionally, motorcyclists must follow helmet laws. Tennessee helmet laws require anyone operating or riding on a motorcycle to wear a helmet. Helmets save lives and significantly reduce fatal head injuries by almost 50%.
Motorcyclists must also carry motorcycle insurance. Motorcyclists may be eligible for a discount on their insurance rates after completing a rider education and safety program.
Who is at fault?
It depends, based on a number of factors, including time of day, road and weather conditions, traffic conditions and driver intoxication.
What should I do if I have been involved in a motorcycle accident?
You should contact a Tennessee motorcycle accident attorney at Lowery, Lowery & Cherry, PLLC.
Contact Tennessee auto accident lawyers at Lowery, Lowery & Cherry for a free consultation
If you have any additional questions, contact the experienced attorneys of Lowery, Lowery & Cherry today for a free and confidential consultation.