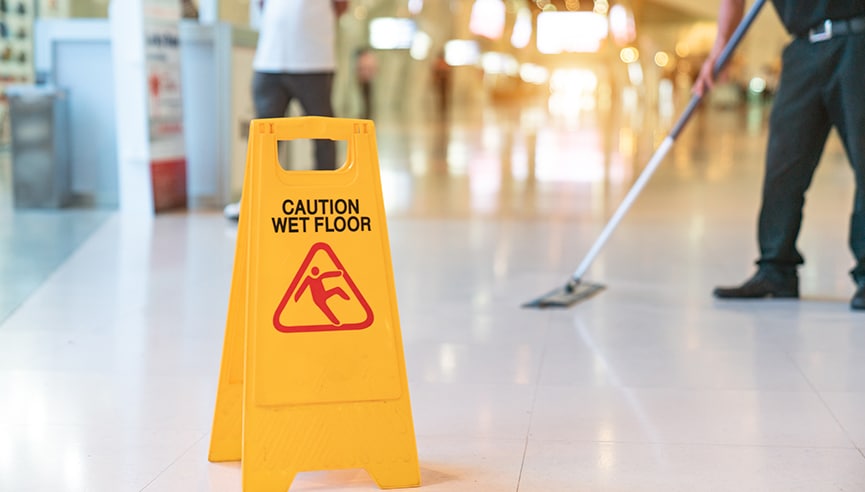 Lebanon Premises Liability Lawyers Helping Clients Move Forward
Representing accident victims in Mt. Juliet, Cookeville, and across Tennessee
Premises liability can take the form of a vicious attack from the neighbor down the street's dog, a violent attack in a parking lot, a slip and fall on uneven stairs with a loose handrail, or any other type of accident injury on someone else's property. Property owners owe a duty of care to visitors and tenants and even to a certain degree to trespassers to keep their premises safe.
But not every person who trips and falls on someone else's property can sue the owner and expect to recover compensation. The injured person must be able to prove negligence on the part of the property owner before he or she can hold him or her liable for injuries. This is where the services of a skilled Lebanon premises liability lawyer become helpful.
At Lowery, Lowery & Cherry, PLLC, we offer personalized care for every client. With our more than 70 years of combined legal experience, our personal injury attorneys are dedicated to offering aggressive representation to recover maximum compensation on your behalf. We offer free consultations and we accept cases on contingency, so you never pay attorney fees until we recover compensation for you.
What is premises liability?
Premises liability is a legal description of a personal injury that occurs on someone else's property. It speaks to the property owner's legal obligation to provide a safe environment for those who use their property. When property owners fail in their duty to keep their premises safe, a visitor or tenant may be able to file a lawsuit against them to recover compensation.
Common examples of Tennessee premises liability cases
In Lebanon, TN, property owners owe a duty to exercise ordinary care to protect visitors to their property from injury, but they are not required to guarantee perfect safety for their visitors. If a visitor or tenant does become injured, the key to a successful case is discovering if the property owner had knowledge of the hazardous condition, or was the hazard so "open and obvious" that the visitor should have been able to see it and avoid it? A property owner is required to exercise ordinary care in identifying and correcting safety hazards, and warning visitors about those hazards of which they are aware and plan to remedy.
Examples of premises liability cases include:
Dog or other animal bites
Violent assault
Slip and fall
Drowning accidents
Proving that these types of accidents occur because of the property owner's negligence can be complicated. A skilled Lebanon premises liability lawyer must be able to prove not only the property owner's negligence, but that the person who was injured could not have known about the hazardous condition that caused the injury.
Premises liability at a private residence
Say you are attending a barbeque at a neighbor's house when the deck collapses under the weight of the party. This is an example of premises liability that can take place in a private residence. The following are a few more examples of premises liability hazards that might take place at a private residence:
Child injuries on private property
Dog and animal bites
Swimming pool accidents
Slip and fall accidents
Deck collapse
Premises liability on vacation
Taking a vacation is a chance to step away from the stress of your daily routine and enjoy life in a beautiful location. But sometimes paradise contains hazards to your life and well-being. The following are a few examples of the kinds of incidents and accidents that can occur when you are visiting a hotel, a resort, an Airbnb, bars and nightclubs, casinos, amusement parks, and other vacation locations:
Elevator and escalator accidents
Pool or hot tub accidents
Insect/bed bug infestations
Criminal activity
Cruise ship injuries, assaults
Deck collapse
Communicable disease outbreaks/ food poisoning
Inadequate lighting and security
Broken furniture
Parking lot or garage accidents
Personal injury in public places
You spend a significant amount of time in public places such as supermarkets, malls or department stores, gym or fitness centers, gas stations, hair salons, and other places. Some examples of these types of hazards include:
Accidents in retail stores
Restaurant liability
Slippery floors, uneven floors
Negligent security
Violent assault
Faulty stairs and handrails
Deferred maintenance
Do I have a valid Lebanon premises liability case?
Property owners are not required by law to guarantee the safety of every person who crosses their threshold. Rather, property owners owe a duty of reasonable care to those who enter their property lawfully, as in the case of customers, clients, and tenants. If there is a stairway that visitors must use, the property owner has an obligation to remove the foreseeable hazards that could cause injury. If there is a loose carpet on the staircase, and a customer slips on the stairs and suffers a serious injury, he or she would have to prove that the property owner was aware that the carpet was loose but failed to take care of it.
In failing to repair the loose carpeting on the stairs, the property owner breached a duty of care to the people who would be using the stairs. The injury that the patron sustained from slipping on the loose carpet and falling down the stairs was caused by the property owner's negligence. The injured person must be able to prove that to prevail and recover compensation for his or her injury.
The elements that the plaintiff must prove in a valid premises liability case include:
Proof that the property owner owed a reasonable duty of care
Evidence of a breach of that duty
The property owner's breach of a duty of care was the direct cause of the plaintiff's injury
The plaintiff suffered an injury
The plaintiff's injury caused additional damages
This is a greatly simplified overview to give you an idea of the challenge your premises liability attorney is up against when they are working to recover compensation when you have been injured on someone else's property.
What types of damages available in a premises liability case?
If you prevail, and are successful in proving the property owner's liability for your injuries and losses, you may be able to recover the following types of damages depending on the specifics of your case and the severity of your injuries:
Medical expenses for current and ongoing medical care related to the accident injury
Lost wages from missed time at work for medical appointments, hospitalizations, and recuperation
Pain and suffering
Emotional distress
Other losses
At Lowery, Lowery & Cherry, our skilled Lebanon premises liability lawyers are equipped to handle any type of case arising from premises liability claims. We offer personalized care and strong advocacy for our clients.
Can you tell me what my case is worth?
In the many years that we have been practicing law and representing injured clients, one of the first questions clients ask when they are considering a personal injury claim is, "How much money can I get if I win a lawsuit? We tell our clients that we are unable to give them a solid number for how much their case is worth in their first consultation with us.
Every case is different, and we must investigate the incident, review your medical records, and consult with your doctors to get a better picture of how the injury will affect your ability to care for yourself, work and participate in your life before we can tell you how much money you might recover if you win the case.
How does a Lebanon premises liability lawyer hold a negligent property owner accountable for my injuries?
Before you can recover compensation for your injuries after a premises liability accident, you must first present a compelling case proving that the negligence of the at-fault party was the direct cause of your injury. You must prove that either the property owner knew about the hazardous condition and failed to remedy it or warn visitors or tenants about it. Premises liability cases can be complicated, requiring a personal injury attorney with the experience and resources to investigate the incident and preparing your case.
Our legal team is here to guide Lebanon residents through the civil justice process where you can assert your rights to recover compensation after someone else's negligence has caused your injuries and other losses. On your own, you would have no way to know how to investigate the case, you would have no way to know the accurate value of your case, or have the skill to negotiate with the insurance company lawyers. You will benefit from our decades of experience, and you will receive personalized service and care as we guide you and protect your rights.
What if I can't afford to hire a good injury attorney?
Many people mistakenly think that they cannot afford the services of a skilled Lebanon premises liability lawyer. There is no need to worry because you do not pay attorney fees until after we have successfully recovered compensation for you. We are here to make sure that you recover the maximum amount of compensation available, and that you have solid representation at settlement or in court.
Schedule a consultation with a skilled Lebanon premises liability lawyer today
When you are a client with Lowery, Lowery & Cherry, PLLC, you benefit from our 70 years of collective legal experience, and from our passion for protecting the rights of our clients. We are valiant advocates for the injured in Lebanon, Cookeville, Mt. Juliet, Nashville, and throughout Tennessee. You are welcome to call 615-444-7222 or contact us to schedule a free, no-obligation consultation to discuss your case and receive legal guidance pertaining to your case if you have been harmed or injured in any manner in an accident or due to someone else's negligence.